My Favorite Mistake
In this episode of the My Favorite Mistake Podcast, Becky tells her favorite mistake story about thinking she would get an "A" for effort when working toward a bold goal of getting 100,000 homeless people into homes. Why she "lost track of the outcomes" and how she adjusted to get back on track. 
Mark and Becky discuss; the approach to end homelessness, looking at measures more continuously along the way, 100,000 lives campaign, better ways to say "here's what you're doing wrong", leadership lessons from the Army and Special Operations that are transferrable to civilian life, outcomes focus, and the Unleashing Social Change Podcast.
Impact with Integrity is now a #1 bestselling book!!
Becky Margiotta's Impact with Integrity: Repair the World Without Breaking Yourself is a call to action, but also an invitation to reclaim your agency and mobilize your creativity in order to enact meaningful, efficient, and effective social change. With authenticity, grit, and grace, Margiotta lays out a proven step-by-step framework for doing the inner work that is necessary for advancing social change. Examining yourself is key to supercharging your power to make the world a better place. In this essential guide, she weaves joy and well-being into the work of sustainable and transformational leadership. 
Not just for nonprofit leaders, social workers, activists, educators, and health professionals, Impact With Integrity is for all of us inspired to do good and make effective change in the world.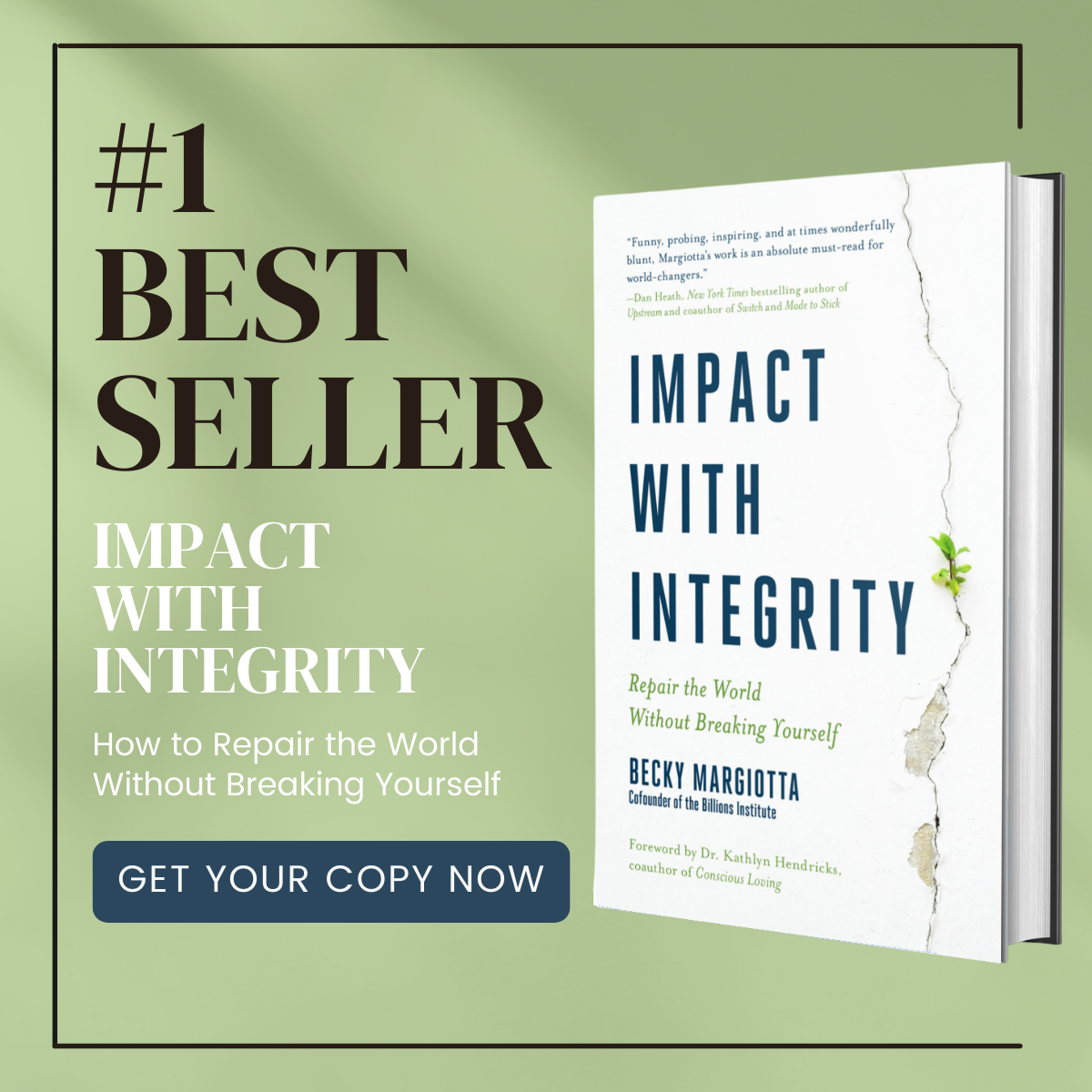 Entrepreneur Struggle
DCP Entertainment & Podstream Studios CEO, Chris Colbert, talks with fellow business owners and freelancers about the challenges and lessons learned as they start and grow their companies. 
We're excited for you to hear Chris and Becky's conversation about their shared passion for ending homelessness, how Becky balances the other forms of activism she wants to be a part of, how she was able to bounce back after a major work crisis, and how she's able to balance her time and money.
Scaling Coach Podcast
Scaling Up is a growth coaching organization helping business leaders with big goals to build a better world.
Listen as Bill Gallagher and Becky Margiotta discuss creating authentic human connections and organizations that are a vehicle for right livelihood and making our communities a better place.
A Joyful Pause Podcast
How does your spiritual practice help you to meet this moment? With humor and grace, Nicole Taylor, author of the wellness book A Joyful Pause, will explore topics with guests from all walks of life who live into this question. If you are interested in how spiritual practice helps us make sense and meaning out of the world we live in right now, this podcast is for you.
Author and well-being coach Nicole Taylor speaks with Becky Margiotta about social change, joy, and how being in integrity can stop burnout.
Masters of Creativity
d.school
The Stanford d.school is a group of Stanford instructors, practitioners, and designers that consistently strive to help individuals unleash their creative and innovative selves.
Their Masters of Creativity series is their way to bring Stanford instruction and content to the broader global community.
In this talk, Becky and Jeremy discuss the importance of doing the inner work as a large-scale change agent.
Strive Together
Together for Change
StriveTogether is building a world where a child's potential isn't dictated by race, ethnicity, zip code or circumstance. They are a national network of local communities striving to achieve racial equity and economic mobility.
StriveTogether communities use data to illuminate obstacles facing children of color and those living in poverty. Using their Theory of Action™ framework, these communities can transform systems to get more equitable results.
This episode is a conversation about when we think about the audacious vision of a more equitable world and what it takes to get there, those of us in this sector can often lose sight of an important component of what it means to build something that lasts. Burnout is something that is all too common in helping roles so in this episode, the focus is on the role of resilient leadership in unleashing large-scale social change.

Unleashing Social Change Podcast
Each episode we interview a badass social change leader and learn the ins and outs of what they're doing to make the world a better place. This podcast will help you feel optimistic that we can make a difference and give you practical tips about how to go about doing so in a big way.
In it's current fourth season, Becky is interviewing the mentors who shaped her into the leader she is today.
Blog Archive
Our weekly newsletters have replaced our blog AND we didn't want to lose all the goodness we published since 2018. Before you browse the archives, make sure you're signed up for our newsletter to receive all the latest inspiration and provocation from Becky and The BI.