NOW A #1 BESTSELLING BOOK!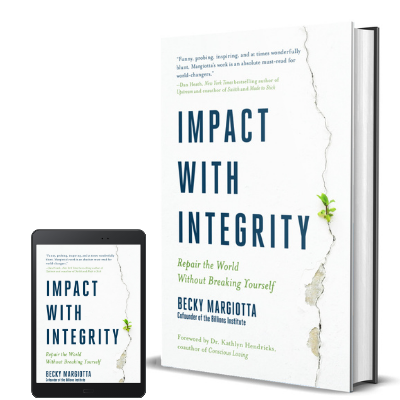 Impact With Integrity:
Repair The World Without Breaking Yourself
The world is on fire and in desperate need of volunteer firefighters. If you've ever wondered if you have a purpose, if there's a place in the world in need of your unique genius, the answer is yes. And the right time to step into your purpose and explore the path of your potential is now. But you don't have to do this work alone—and you shouldn't do it without taking care of yourself first. Burnout rates in the helping professions are off the charts, but we won't make progress "out there" until we take full ownership of whatever we're feeling "in here."
Becky Margiotta's #1 bestselling book Impact with Integrity: Repair the World Without Breaking Yourself is a call to action, but also an invitation to reclaim your agency and mobilize your creativity in order to enact meaningful, efficient, and effective social change. With authenticity, grit, and grace, Margiotta lays out a proven step-by-step framework for doing the inner work that is necessary for advancing social change. Examining yourself is key to supercharging your power to make the world a better place. In this essential guide, she weaves joy and well-being into the work of sustainable and transformational leadership. 
Not just for nonprofit leaders, social workers, activists, educators, and health professionals, Impact With Integrity is for all of us inspired to do good and make effective change in the world.
Praise for Impact With Integrity
"Becky tackles the essential inner work of leadership, including the need to wrestle with our conditioning so that we can lead from a place of authenticity and love."
Tema Okun, author of "White Supremacy Culture" and "White Supremacy Culture—Still Here"
"Impact with Integrity is the quintessential book for social change leaders and anyone who wants to live and move through the world from a place of authenticity and liberation."
Dr. Michelle Pledger, director of liberation, Center for Research on Equity and Innovation
"Impact with Integrity is a gift to the millions of us working in the social sector. In this wise and powerful guide, Becky Margiotta, herself a transformational force, coaches readers in becoming reenergized, self-aware, more joyful, and effective leaders of social change rather than guardians of the status quo."
Rosanne Haggerty, president, Community Solutions
"Becky's words should speak to the heart of every leader. Reading this book and practicing its wisdom will allow truly authentic leadership to shine through."
Dr. Helen Smith, consultant forensic psychiatrist and national clinical advisor to the Mental Health Safety Improvement Programme (NHS England/Improvement)
"In Impact with Integrity, Becky candidly captures many of the opportunities and challenges that social change leaders face and offers the reader pragmatic, powerful ways to explore and reframe their place in the work."
Anne Marie Burgoyne (managing director, social innovation) and Sarah Rahman (director of capacity building), Emerson Collective
"If you've ever felt overwhelmed, isolated, or scared while leading social change, Impact with Integrity is for you. Through unvarnished accounts of her own successes and failures and the many lessons learned along the way, Becky knits together head, heart, body, and soul in an approach to largescale change that is accessible, deeply human, liberatory, and joyful."
Eunice Lin Nichols, vice president of innovation, Encore.org
"So, too, can you shift the context: One choice at a time. One commitment at a time. One unarguable reveal at a time. One request at a time. One agreement at a time. Appreciation all the time. Genius all the time. Lather. Rinse. Repeat."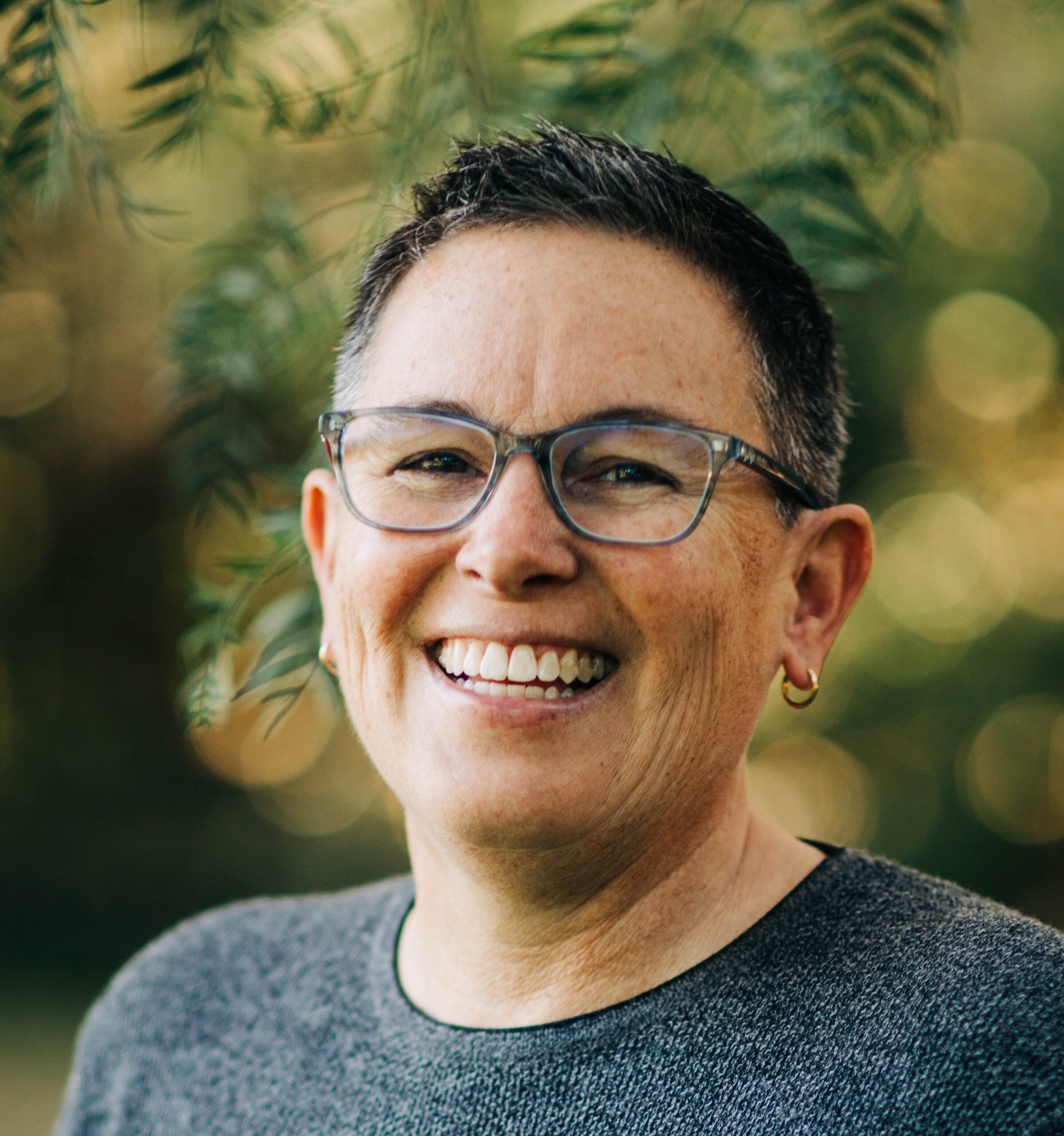 About the Author
Becky Margiotta is the cofounder of the Billions Institute and host of the podcast Unleashing Social Change. She has trained thousands of people the world over on how to design and lead large-scale social change.
Margiotta directed the 100,000 Homes Campaign for Community Solutions, which mobilized 186 cities to permanently house more than one hundred thousand people who had previously been living on their streets. Her work has been profiled on 60 Minutes, NPR, the New York Times, the Washington Post, the Stanford Social Innovation Review, and the Harvard Business Review. A graduate of West Point, she also served for nine years as an officer in the US Army, both in Special Operations and Special Mission Units. She earned a master's degree in organizational change management from The New School University and has received a White House Champion of Change award, the Schwab Foundation's Social Entrepreneur of the Year award, and the National Conference on Citizenship's HOOAH award. She lives in Claremont, California, with her wife and their two kids.