Greetings from the United Kingdom!
Last week we trained 130 change leaders in our Model for Unleashing through our partnership with the South West Academic Health Sciences Network at Dartington Hall (shown above). This week we're at it again – this time in Wales – with 50+ change leaders brought together by the Cardiff and Vale University Health Board, the Life Sciences Center and the Bevan Commission. Joe, Selena and I are so grateful for their tremendous hospitality and commitment to making big change in the world, especially throughout the UK's National Health Service. 
In addition to feeling like I had landed at Hogwarts, I'm reflecting on one of the most magical things endings to one of our workshops that I've ever experienced last week. 
We always end our trainings with a "one word check-out" to conclude our time together. Throughout the week, I'm always on the lookout for someone who might have something special to share with the group. Last week, we were joined by Chris Lubbe, who – in addition to being an inspirational speaker and coach – was Nelson Mandela's bodyguard for the last nine years of his life. Chris shared his own thoughts with all of us about the African philosophy of "Ubuntu" which translates into "I am because we are." I had goosebumps and was holding back tears as Chris spoke about returning with Nelson Mandela to the prison where he had been kept all those years and watching him chip away a piece of limestone rock to remember that experience. As he was dying, Nelson Mandela gave Chris that same rock and Chris now carries it with him everywhere as a reminder of his own experience of Ubuntu. There was not a dry eye in the room.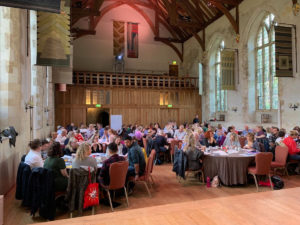 I'm excited to see what this week will bring with the group from Wales!
Love,
Becky