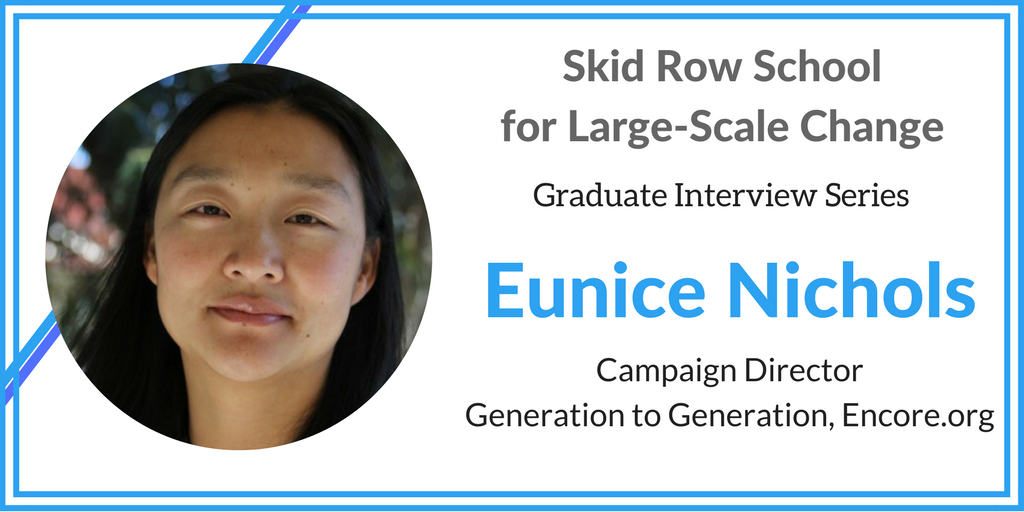 Meet Eunice Nichols. Eunice is a Vice President at Encore.org and serves as the campaign director for Generation to Generation, a 5-year initiative to mobilize one million adults 50+ to help young people thrive.
What is the core/heart of Encore.org's Generation to Generation intervention?
The heart of the Generation to Generation campaign (www.iamgen2gen.org) is reducing social isolation and generational segregation that disproportionately affects both older adults and children — in particular children growing up in challenging circumstances. We want to connect the two, young and old, for the benefit of all.
Our five-year campaign involves three elements:
We're telling a new story about uniting the generations in ways that cross boundaries of age, race and class. We want to see a society where people are living their legacy now — where older generations standing up for kids becomes both the expectation and norm in later life.
We're building a diverse action-oriented community dedicated to upholding that vision, and making it a reality on the ground. We want to point people to concrete actions they can take to make a difference, and for them to feel a sense of co-ownership in mobilizing others to join them in standing up and showing up for kids.
We're also spurring innovation and sharing best practices for involving people over 50 in the lives of children and youth. We have developed a learning network of organizations and communities that are piloting or scaling the engagement of older adults in their work, and we just launched the Encore Prize: Generation to Generation Challenge. The Encore Prize awards $100,00 in cash prizes and coaching to the next generation of programs and products being created to harness the talents of adults over 50 to help kids at risk.
We like to quote Don Berwick "Some is not a number, soon is not a time." What is your current 18 to 36 month aim?
Our near-term goal is to engage 20,000 participants by the end of 2017, including 100 partner organizations and 50 significant voices (people with a public platform that are sharing the new narrative), and to showcase 20 innovative organizations or communities where the experience and talents of older adults are being leveraged to help kids thrive.
What was the most important take-away for you from the Skid Row School for Large-Scale Change?
First, I would say the power of personal narrative. I love the Story of Self framework presented at Skid Row School. It's been helpful for me both personally and for the campaign. Participants of the school told their story during our time together. I was struck by how often people were inspired to do their current work because of the powerful presence of an older person in their life. It drove home the message that our campaign needs to tap into that relatable story of an older person speaking into their lives at a formative moment — or the story of wishing they had had that voice during challenging times. That's the heart of the campaign: that every child deserves a web of support, and every older adult has something to give.
Every child deserves a web of support and every older adult has something to give.
Click To Tweet
Also, everything we learned about the Switch framework has been helpful. Bright spots are not rare, and we should be eager to look for them and learn from them. Our campaign has been trying to operationalize a number of the Switch learnings.
Lastly, I really appreciated the session on working in our genius. We have a fast-moving campaign. We're constantly shifting and learning, and as we do that it has been a good challenge to incorporate the concept of "genius"– looking at the work in front of us, what skills individuals can contribute, and whether we're utilizing people to the best of their passions and skills, independent of their title or role. Our campaign is all about helping older adults and kids thrive — we need to think about that for our team, too, so that we can all be operating in our place of greatest contribution and joy.
What advice would you give a new leader who really wants to spread/scale their work?
Many of us have had a lot of previous experience running a nonprofit, program, or initiative. I didn't realize what a different beast it is to run a large-scale change initiative!
I would encourage new leaders to surround themselves with other leaders who are trying to do equally audacious work in a public forum. It's scary to put big numbers out there for the world to see. It can bring up a lot of things for you as a leader, in particular the fear of public failure. It can feel quite isolating.
Being involved in Skid Row School, surrounded with people who are doing the same thing reminds you that you're not the only one doing this type of work. Many people have walked this path before. Knowing everyone is here to support each other makes a huge difference.
What gets you motivated and out of bed every morning?
Literally, the answer is my kids who wake me up at 7 o'clock when they pile into my bed! But they're also the aspirational reason why I get out of bed. It's the opportunity to make the world a better place for them as they grow up. I want them to live in a world where older generations standing up for them is the norm — and where they will someday be that older person investing in younger generations.
How do you recharge your batteries and take care of yourself?
That's an easy one – sleep! When I want to recharge my batteries I sleep for as long as possible. Napping is my superpower — I can nap anywhere, anytime. I'm also an introvert. This work is very people intensive, so I need to intentionally build in alone time.
If you had one wish for humanity and the planet, what would that be?
If I could have only one wish for humanity, it would be for everyone to have someone in their life who's crazy about them, and ideally, not just one person, but a web of support. We can overcome huge obstacles and challenges when we have somebody in our corner, willing to do anything for us.
I wish that everyone could have someone in their life who's crazy about them.
Click To Tweet