Name as many Asian Americans you've learned about in school as you can.
Last month, I asked our kids in high school, middle school and elementary school to name as many Asian Americans they could think of that they have learned about in school. The high schooler said she has read a couple novels written by Asian Americans, but all three of them could not name a single one. All three are fans of the actor and comedian Ken Jeong and in general know about Japanese internment, and possibly the work on the railroad. But while I perused my 9 year old's library of biographies, I realized not one of them was about any individual of Asian heritage.
This question is just a reflection on how we've been taught, what's out there to consume, and not a judgment — How many can you name?
 I am Asian and can barely come up with a handful myself.
Just last year when looking for something for my soon to be born daughter, I learned about Mabel Ping-Hua Lee, the teenager who helped lead a suffrage parade on horseback in New York City in 1912, and wrote an essay in 1914 about the importance of extending voting rights and equal opportunities to women. When the 19th Amendment was passed, it would take almost another 25 years for Lee herself to be granted the right to vote with the repeal of the Chinese Exclusion Act in 1943. When trying to find the corresponding "Who was…" book on Amazon to go with my son's biography collection, searching her name brought up zero biographies about her. Only a reproduction of a book of hers published before 1923 about the economics of China…and ping pong balls.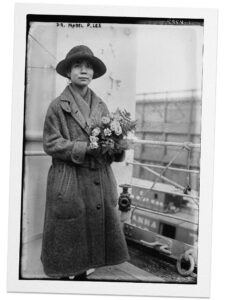 Mabel Ping-Hua Lee,
Records of the Immigration and Naturalization Service/National Archives
A couple weeks ago, the first ever woman of color won the best director award at the Oscars. But instead of simply being able to congratulate Chloe Zhao on a movie I thought was pretty distinctly American, I scrolled through social media posts claiming this was a giant win for Communism and China, despite the entire ceremony and her win being censored by China.
I couldn't help but wonder again if any of us of Asian descent will ever be individuals. And ever be acknowledged as Americans.
When you think about the first Asians having arrived possibly as early as the 16th century, it's kind of amazing that the unconscious bias is looking at all Asians as perpetually foreign still exists so strongly as to cause inexplicable attacks both verbal and physical in 2021. And can we remember any of the names of those attacked beyond #stopaapihate?
If there is a definition of invisibility, I'd include this at the top.
When I worked briefly in international adoption, there were some reflections that were similar, "You know that the child's parents are not 'China' or 'Korea' but two actual individuals who had a story, right?" Do you know their names? Because I can for sure tell you in domestic and foster care adoption, you definitely think about their names.
May is Asian American and Native Hawaiian/Pacific Islander Heritage Month. My hope this month is that you might find and learn about some more Mabel Ping-Hua Lees, name names, share them with your kids if you have them, and share them with us in the community.