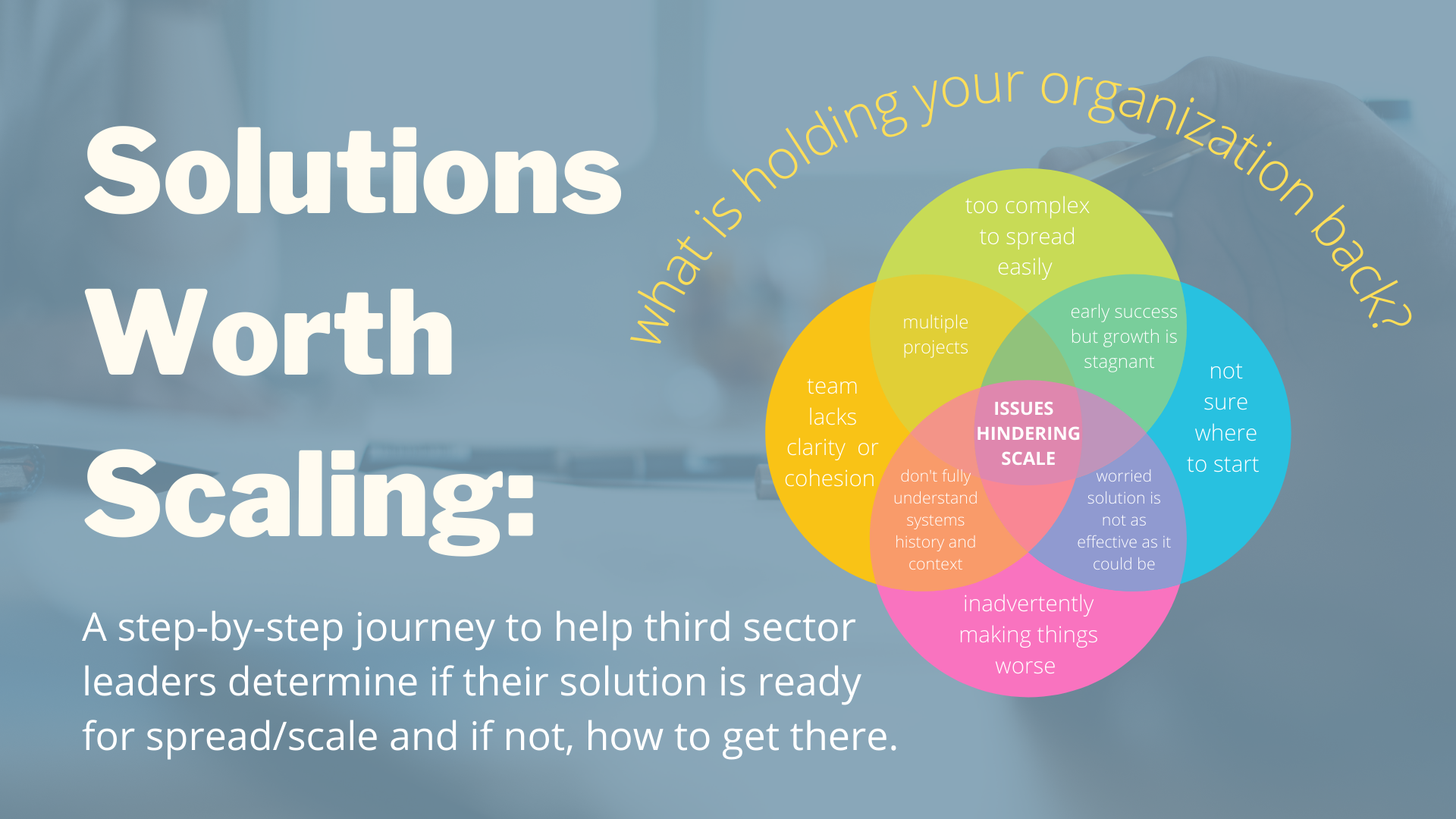 We'd like to help you and your team design and refine your solutions so that they are ready for spread/scale, and do this:
WITHOUT inadvertently reproducing the inequities that caused the problem in the first place
So that you can and fully harness the creativity of all your stakeholders and make true progress toward the things that matter to you most
And do all this in six weeks. (Jan 27th – March 3rd, Thursdays 9:45-10:45 a.m. PT ) 
Over the last six years we've been helping social change leaders design and run large-scale change initiatives. We've learned a lot about what makes an idea – and the team – ready for scale. Here are some indicators that you and your team might benefit from this course:
…You have a successful program model, and you feel ready to spread/scale it, but your solution is so complex that you feel daunted even thinking about it 
…You have launched multiple projects and are unsure which one(s) you should scale and which one(s) you should let go of
…You are passionate about solving a social problem, but aren't sure where to start
…You have an idea or a potential solution in mind, but haven't made progress yet.
…You don't fully understand the systems and history that created the problem, so your solution is less effective than it could be
… you've achieved some early wins, maybe even gained some recognition for your solution, but you have nagging doubts that is it rooted in or connected to a white savior complex.
…The way you are currently delivering your solution is inadvertently making things worse
…Your team lacks clarity and cohesion about the problem and the solution
Understandably, what leaders want to do is forge ahead with what might be considered the more sexy content related to scale. 
They have great big hearts and great big brains – just like you. They are determined to make the world a better place. 
But to do so, you need more than a big heart, big brains, and good intentions.
We *NEED* to make sure the solution is worthy of scaling – regardless of how long it takes. 
We need to begin to develop the mindset and the skills that will enable us to design equitable solutions that are ready for spread/scale. 
It is worth the time it takes to invest in this capacity for yourself and your team. Doing so will greatly increase the odds that your solution will actually make progress on the problem you seek to solve.
And that's what we care about the most.
Solutions Worth Scaling will set you and your team up for tremendous success in your efforts to spread/scale solutions.
We are going to give you everything you need to determine if your solution is ready for scale, and point you in the right direction to get exactly the support you need if it's not.
If you're pretty close but need a little refinement, this will help you get there. If you're starting from scratch – all the better. 
Ready to save years of wasted effort and set you and your team up for tremendous success?
Let me put my experience in it.
For years we've been working with leaders just like you and teams just like yours. At times, not as effectively as we would have liked. When teams enrolled in our large-scale change courses, we made the mistake of assuming all teams were clear on their solution and that their solution was, in fact, ready for spread/scale. 
We were wrong.
Many teams were not clear on their solution. 
And their solutions were not ready for spread/scale.
Which led us to ask:
how would we even know if a solution is ready for spread/scale?
What if a team believes they're ready, but they're really not?
Conversely, what if a team doesn't think they're ready, but they are?
Instead of doing what we've done in the past (relying upon our intuition, or the external validation of funders or the media to tell us we're ready to spread/scale), or retrofitting our spread/scale courses, we'd like to change it up and give you a framework to evaluate your organization, team, and idea to determine if you are ready for spread/scale, and if not, let you know exactly what you need to do to be ready.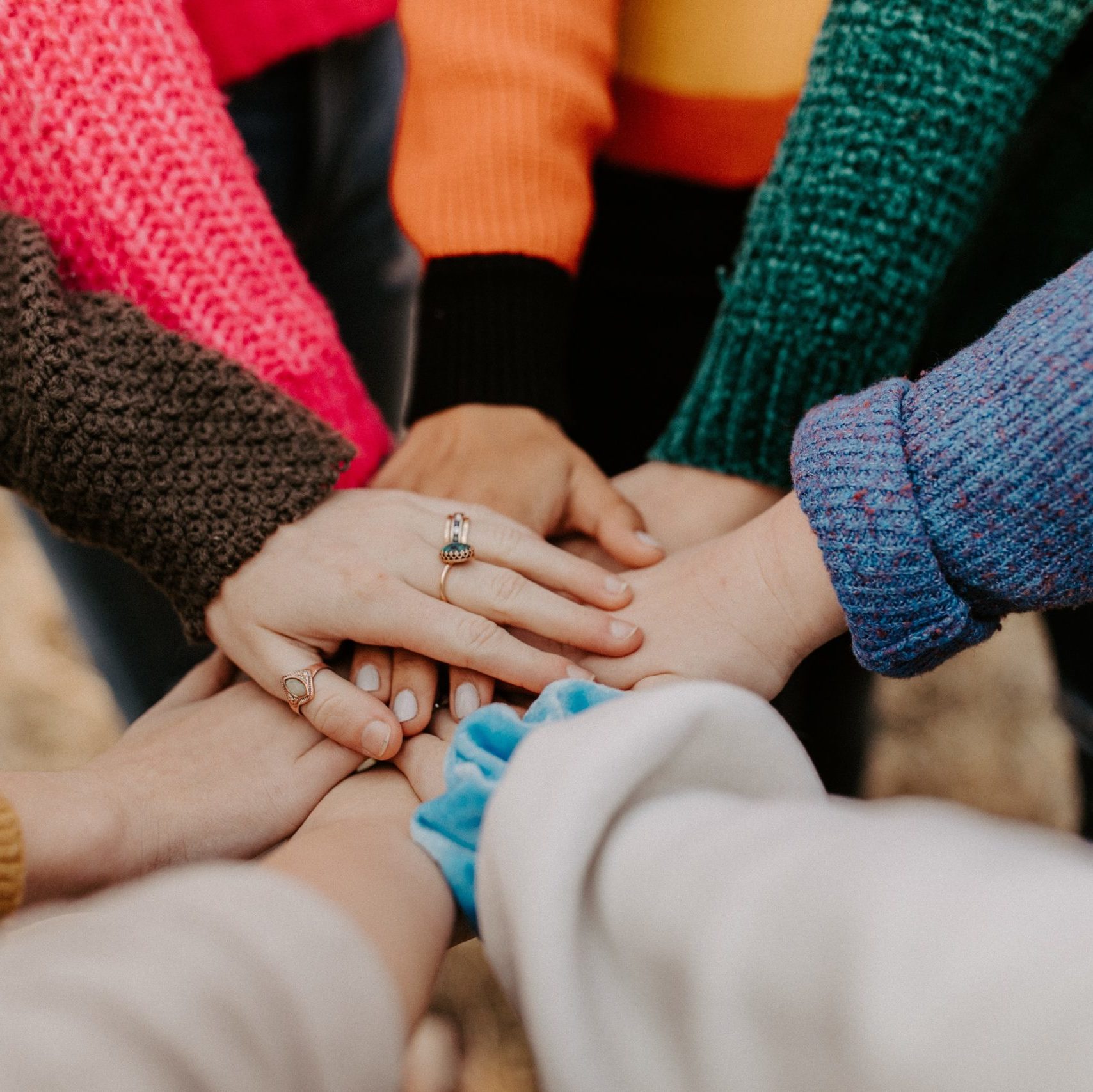 So…we've decided to split our signature course into several shorter courses, and take our own medicine when it comes to organizational genius. When faced with something you're not great at doing, find someone else who is!
Dr. Christine Ortiz Guzman, Founder of Equity Meets Design, brings together the disciplines of equity and design in an absolutely genius way.
With her permission, we've shared her "Problem with Problems" framework with our participants for years, but why get a handout from us when you can actually learn from her directly?
Dr. Ortiz has created several courses that go into depth and detail about equitable design. We're partnering with her to offer this new course, Solutions Worth Scaling, to really help you and your team design and refine your solutions.
This course digs way deeper into the "Dig Deep" part of the Model for Unleashing, through a powerful partnership with Equity Meets Design.
Ready to design and refine your solutions so that they are ready for scale WITHOUT inadvertently reproducing the inequities and make true progress?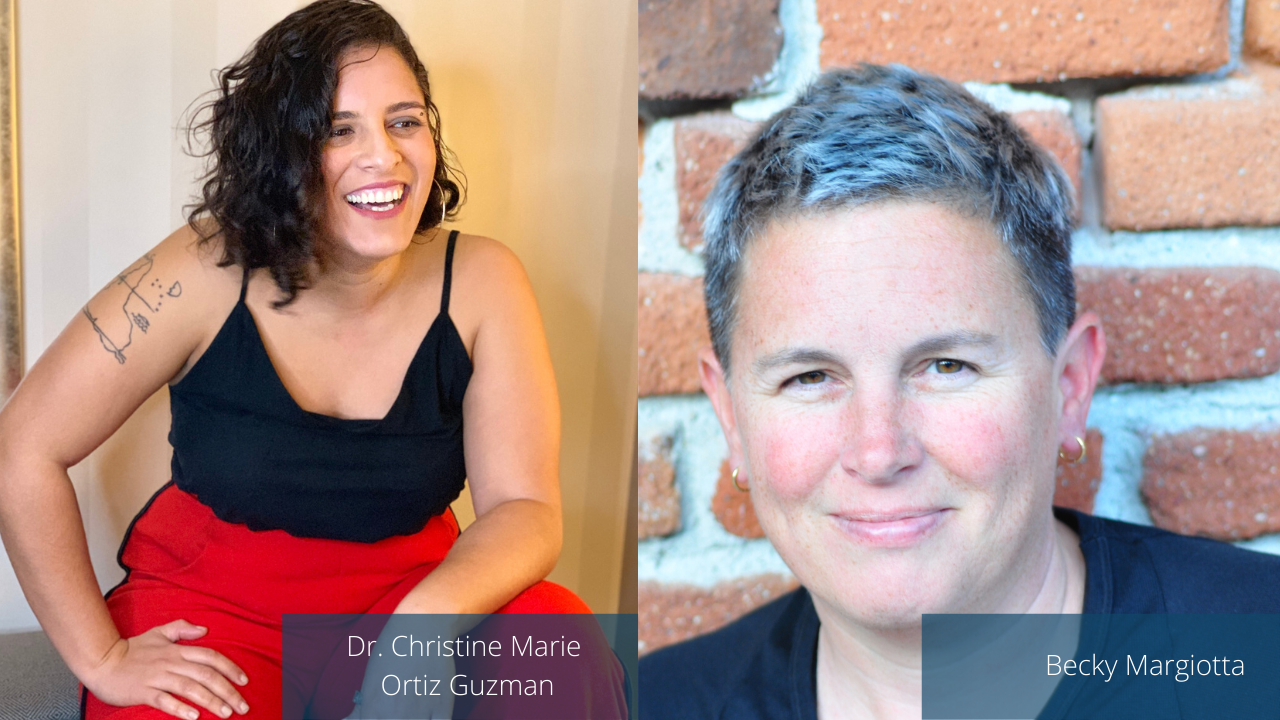 Solutions Worth Scaling is for you and your team if you
:
Work in some way to make the world a better place.
Have a problem you want to solve, but aren't sure where to start.

Have a solution you've developed, but aren't confident that your solution was equitably designed.
AND you
Are willing to fall out of love with your solution.
Are willing to fall in love with your problem.
Are willing to commit to at least 2 hours a week for six weeks to integrate and apply what we're going to teach you.
Are open to receiving coaching and mentorship.
Want to learn these new mindsets and skills with a group of like-minded and like-hearted people.
Understand that this won't happen overnight, but that you can begin now.
Oh, and what you really want is to:
Learn mindsets and skills that will help you and your team design equitable solutions to whatever problem you care about most.
Save your organization years of wasted time and money by chasing the wrong solution.
"Being a change agent in the world is a full contact sport and requires that you bring your best in mind, body and spirit. This has been a transformational experience, and I love being part of the community."
Director
,
Raikes Foundation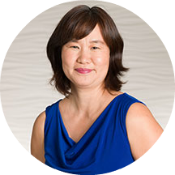 Frequently Asked Questions
What if my unpredictable schedule means I miss coaching sessions?
As much as we'd love everyone to attend every coaching session to get the most out of their time with us and their cohort of students, this happens to most of our social change leaders who are busy making their dent in the universe. This is why we record all sessions and post all relevant resources discussed in these coaching sessions so you can catch up on what you missed. So no worries if you miss one or two. That said, you'll get the most out of submitting your own questions and being on the "hot seat" and contributing to other people's questions during our coaching sessions.
Can I get private coaching instead of group coaching?
We do group coaching out of design as one of our beliefs at the Billions Institute is that it is the community that is of greatest value. You learn the most from others as they learn from you. When you learn in public it's one of the best sources of growth and change.
Is this course suitable for my team or best for individuals?
We discourage you taking this as an individual. It is better to take this course with your collegues and lead decision makers of your organization. 
Is this course replacing the Skid Row School?
No. This course covers most of what used to be the first day of the content covered in the Skid Row School, examining the systems and structures and mental models that created the problem you are trying to solve and may be continuing to perpetuate the problem. Then, ensuring that your solution to the problem adequately addresses all of the layers below the tip of the iceberg and problem with problems to get to that solution worth scaling. In 6 weeks we're able to get much deeper into these issues. Following this course, we will be offering Exponential Impact in late August 2021 which will cover all of the additional technical modules covered in the Skid Row School to get you to scale. In the meantime following this course or any other courses offered by Billions Institute, you can join our Coaching Community to get support and your questions answered!
What if I need more coaching after the course?
Graduates of all our courses are invited to join our monthly Coaching Community for $99/month for as long as you'd like to join with no minimum months required. Attend when you can and listen to recordings when you can't! We have amazing coaching partners and more curated resources for you as we know friends don't let friends lead social change alone! 
What if my organization is paying for me?
Once the course is purchased you will receive a receipt which can be presented for reimbursement. If you won't be paying directly and need an invoice to submit to your organization instead please reach out to selena@billionsinstiute.com
Here's how you'll get to team clarity and consensus on an equitable and spreadable solution:
Solutions Worth Scaling starts in earnest on Jan 21st, when the first module will be made available to all participants. You will have several days to digest the materials and the opportunity to workshop your solution live during weekly calls with the faculty team.
On Jan 27th, we will begin our first of six live sessions, to guide you and support you in discovering what you need to know and do so that your solution is ready for scale.
Each Friday we will release a new module, and the following Thursday we will meet for a live session. For some modules you will have a short homework assignment. Please be prepared to set aside one hour per week for your team to work through the materials together in advance of our Thursday live session.
We Guarantee You'll See the Benefits
If you're not seeing the changes you hope for, reach out and we'll help you through your challenge or make it right.
Still not happy? Show us that you've done the work within the first 14 days of the course start date in October and we will gladly give you a full refund. 
Ultimately, I want this course to help you and your team design and refine your solutions so that they are ready for spread/scale, and do this:
WITHOUT inadvertently reproducing the inequities that caused the problem in the first place 
So that you can and fully harness the creativity of all your stakeholders and make true progress toward the things that matter to you most 
And do all this in SIX WEEKS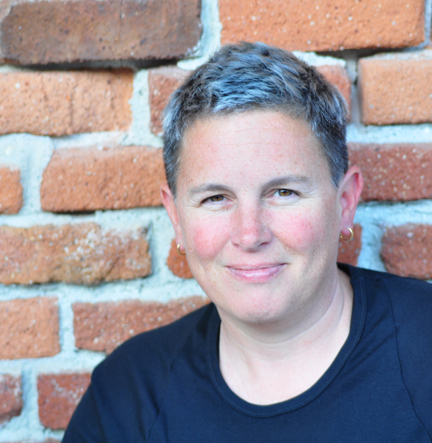 Solutions Worth Scaling Course Instructors  
Billions Institute in partnership with Equity Meets Design will begin live instruction Jan 27th, 2021.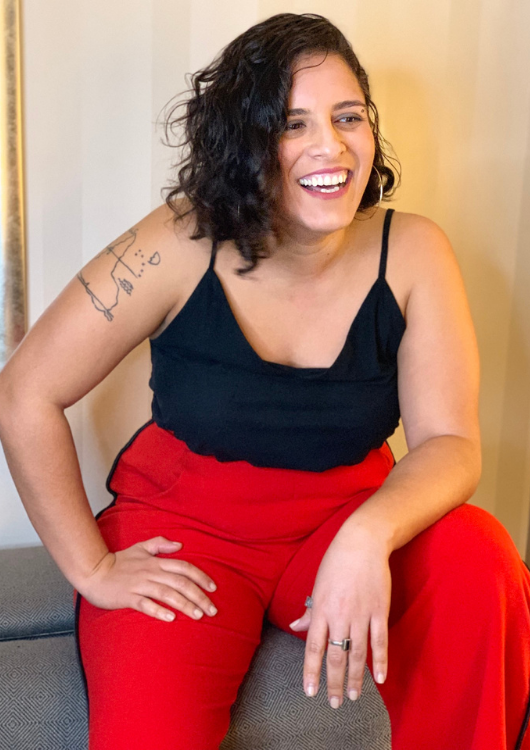 Dr. Christine Marie Ortiz Guzman (she/her/ella)
Dr. Christine Ortiz Guzman is a serial entrepreneur with a passion for innovation through equity-centered design. Her current venture is Equity Meets Design, a think & do tank that builds capacity in folks to use an equity-centered design process to answer the question "How do I do equity?"  Their equity by design process supports individuals and organizations to intentionally design their interventions, interactions and institutions for equity and justice. You can take more of her courses here.
Christine spent her teenage years creating the national Truth tobacco prevention campaign and launched her first consulting firm at 17, supporting states and other countries interested in implementing the Truth model. She has launched k-12 microschools, consulted for schools in the US and internationally, designed and coached entrepreneurs, coordinated a national competition for innovative school models, and designed and taught graduate-level courses on redesigning schools at the Stanford d.School and Harvard University.
The first in her family to have a college degree, Christine has a BS from MIT, Masters in Education and Non-Profit Management, and a Doctorate in Education Leadership from Harvard University. In all her endeavors, she has been motivated to address the barriers innovators face when tackling complex equity-based social issues, leveraging and accounting for the entirety of who she is, especially her experience being a Latina and a mother from the south. She lives in Orlando, Florida with her partner who is a stay-at-home dad to her teenage and newborn daughters.
Becky Margiotta

The social change leader's "woo woo can of whoop ass"
"Woo woo can of whoop ass?" That's right, I'm Becky, the social change leadership whisperer, and I will not tolerate you playing small. I'm here to help you make your big dent in the Universe and to remind you to be true to yourself along the way.
Letting fear creep in? Stepping away from what you're good at? Micromanaging someone else? Nope, not gonna let that happen on my watch. 
As the Co-Founder of The Billions Institute, I train leaders from every nook and cranny of the social sector how to spread and scale their solutions to some of the world's most vexing problems, while not losing themselves along the way. I show you how to stay on task, so you reach flow and are super competent – that's your zone of genius.
While I am a middle-aged "Boo" to two kids and a cat named Sneakers, I'm also *that person* who says out loud what everyone else is thinking (until my wife kicks my shins underneath the table). So be prepared for honest feedback on your journey to stepping into your genius.