Exponential Impact
Take your proven and equitable solution
to the next level of scale and beyond.
WITHOUT wasting your time on strategies that don't work.
So that as many people as possible
can benefit from your solution as soon as possible.
Course Dates: TBD
Join Waitlist
We would like to help you take your proven and equitable solution to the next level of scale and beyond.
WITHOUT wasting your time on strategies that don't work
So that as many people as possible can benefit from your solution as quickly as possible
Exponential Impact is all about adding zeros.
If your solution works in one community – let's add a zero and bring it to 10.
If your solution is being implemented in 10 school districts – let's add a zero and bring it to 100.
If your solution is being used in 100 health care settings – let's add a zero and bring it to 1,000.
This course will help you navigate one unavoidable truth:
What got you here (an equitable and proven solution) won't get you there (bringing that solution to scale).
Scaling isn't about getting people to do what you want them to do.
It's about orchestrating the loss of control of thousands of people you'll never meet moving in the desired direction. We call that unleashing. We're going to teach you how.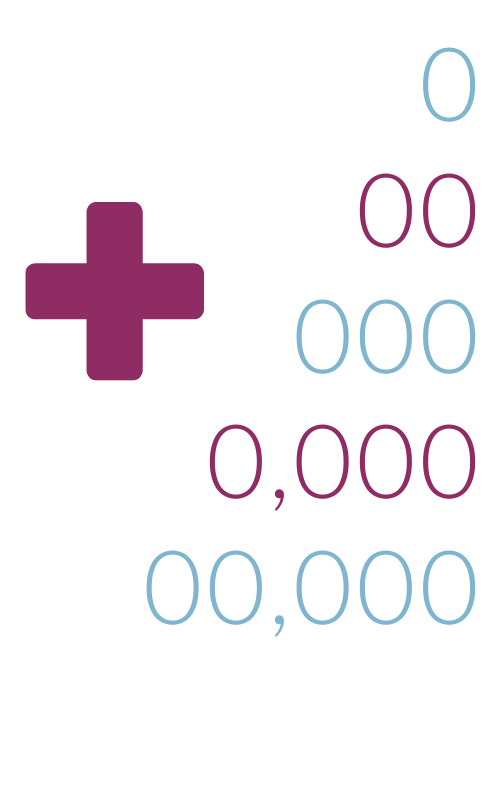 Over our six weeks together, we will guide you and your team through our five step proven process of:
2. Discern
Discern which methods for raising awareness, building will, and transferring skill are most suitable given your solution and your conditions.
3. Shift
Shift your operational norms and processes from 'business as usual' to fully unleashed for scaling.
4. Eliminate
Eliminate Data Malpractice in your organization and identifying the "just right" data for learning and scaling.
5. Craft
Craft an actionable 90 day plan.
Let's Be Honest
This kind of work – this course, even – is not for the faint hearted.
Going to scale takes not only a solution worth scaling, but also clear, crisp, compelling, right-sized aims plus a strategy that is completely different from what worked at the program level. Going to scale is an entirely different ballgame that will make new demands on you as a leader and on your organization.
Business as usual won't cut it.
Most large-scale change initiatives fail
Non-profit leaders are Burnt Out
We know the building blocks of successful large-scale initiatives in our bones.
Not only because we've seen what works, but we've both led successful efforts ourselves.
This is not an academic, theoretical, sit and get course.
This is applied and actionable, taught by someone who has been there, done that, themselves.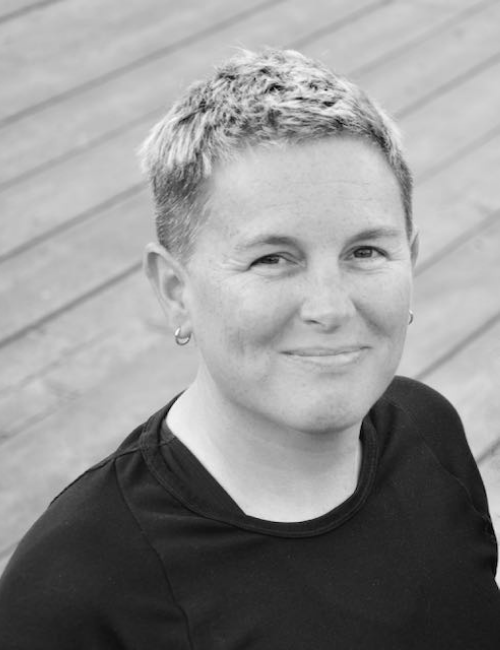 Becky Margiotta 
 As the Co-Founder of The Billions Institute, I train leaders from every nook and cranny of the social sector how to spread and scale their solutions to some of the world's most vexing problems, while not losing themselves along the way. I show you how to stay on task, so you reach flow and are super competent – that's your zone of genius.
I am a tuning fork for authenticity and aliveness. In my coaching I model authenticity, boldness and humility. I am certified as a Big Leap Coach by the Hendricks Institute. You can consider me your "woo woo can of whoop ass" because I will not tolerate you playing small. 
While I am a middle-aged "Boo" to two kids and a cat named Sneakers, I'm also *that person* who says out loud what everyone else is thinking (until my wife kicks my shins underneath the table). So be prepared for honest feedback on your journey to stepping into your genius.
Exponential Impact is for you and your team if you:
Have a proven, equitable solution worth scaling
Are wanting to take that solution to the next level of scale
Want someone to break it down for you and let you know what you need to be thinking about and what decisions you need to make as you pivot to scale
 AND you
Are unwilling to waste your time on ineffective strategies
Are willing to completely dismantle business as usual in your organization
Are willing to commit to 1 to 2 hours a week for six weeks to integrate and apply what we're going to teach you
Are open to receiving coaching and mentorship
Want to learn these new mindsets and skills with a group of like-minded and like-hearted people
 Oh, and what you really want is to:
Learn our proven strategies for going to scale
Save your organization years of wasted time and money by using the wrong strategies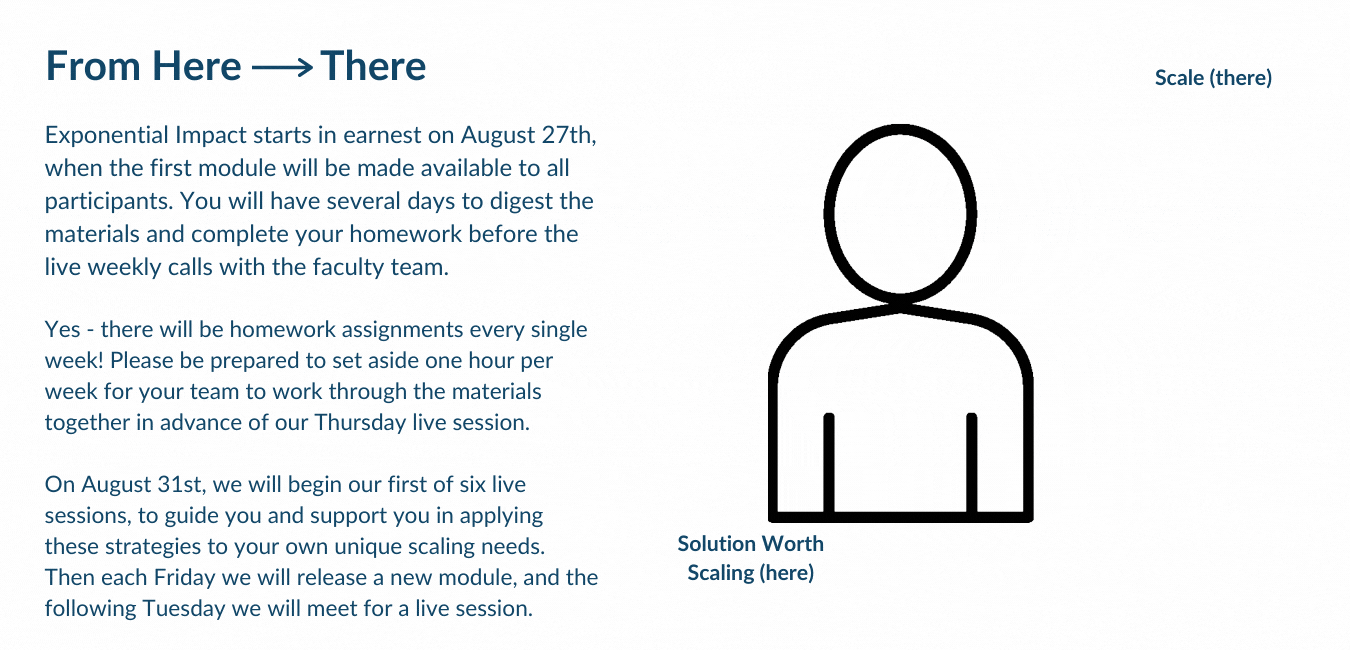 "Being a change agent in the world is a full contact sport and requires that you bring your best in mind, body and spirit. This has been a transformational experience, and I love being part of the Skid Row School community."
Frequently Asked Questions
Do I have to have a solution ready to scale?
Yes, you must. It is part of the application process. This class is applied and actionable, not theoretical. You won't get what you need out of this if you don't have something you plan on scaling in the next 3 to 9 months. If you don't have a solution worth scaling, please take this course immeaditly.
What if my unpredictable schedule means I miss coaching sessions?
As much as we'd love everyone to attend every coaching session to get the most out of their time with us and their cohort of students, this happens to most of our social change leaders who are busy making their dent in the universe. This is why we record all sessions and post all relevant resources discussed in these coaching sessions so you can catch up on what you missed. So no worries if you miss one or two. That said, you'll get the most out of submitting your own questions and being on the "hot seat" and contributing to other people's questions during our coaching sessions.
Is this course suitable for my team or best for individuals?
We discourage you taking this as an individual. It is better to take this course with your collegues and lead decision makers of your organization. 
Is this course replacing the Skid Row School?
What if I need more coaching after the course?
Graduates of all our courses are invited to join our monthly Coaching Community for $99/month for as long as you'd like to join with no minimum months required. Attend when you can and listen to recordings when you can't! We have amazing coaching partners and more curated resources for you as we know friends don't let friends lead social change alone! 
What if my organization is paying for me?
Once the course is purchased you will receive a receipt which can be presented for reimbursement. If you won't be paying directly and need an invoice to submit to your organization instead please reach out to info@billionsinstiute.com
Is this content similar to Skid Row School and Spread Academy?
Yes. This course is similar to the designing and scaling elements of the Skid Row School and Spread Academy.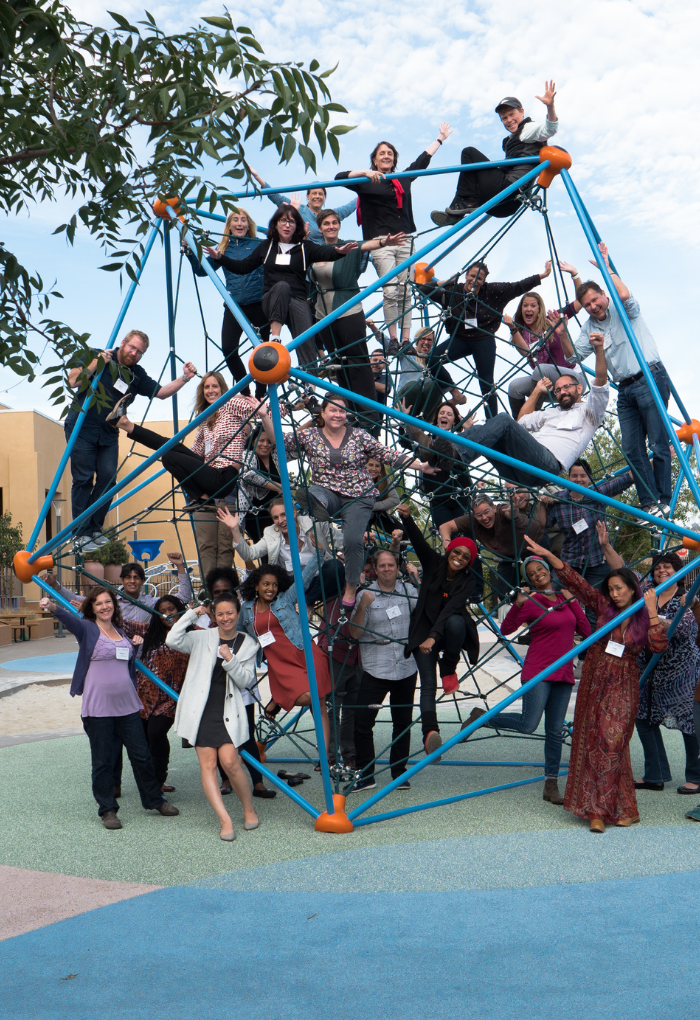 Let's Take a Beat
We would LOVE to see you in this course, if it's what your team needs to take your solution to scale.
We are not interested in tweaking your time or money scarcity any further than it's already tweaked.
When you're ready, we will be here. If not now, we hope to offer this again in the future.
If you're ready, we look forward to seeing you in this course and helping you get started right away!
Here is the course schedule one more time:
Time 8:00-10:00 a.m.PT
Dates: January 4th, 6th, 18th, & 20th
"This course gave me a community to call "home" in this crazy journey — a safe harbor to openly discuss challenges and barriers, to try on new ways of thinking, seeing and doing, to confront my own fears and biases, and to be inspired by the sheer humanity and ambition represented in the room."
"This seminar translates large-scale change into a set of concrete actions you can take tomorrow. If you're looking to go beyond theory then this is the training for you. The faculty have done the hard work of large-scale change which makes all the difference. "